What is Kangen Water™?
Kangen Water™ is a term that's trademarked by Enagic®, which is a Multi-Level-Marketing (MLM) company that's based in Japan, for ionized alkaline water. At less than half the price Aqua Ionizer Deluxe produces ionized water that exceeds or is comparable to the quality of Enagic® units. Watch the video below to find out and try us risk free!

How does Aqua Ionizer Pro Compare?
Aqua Ionizer Pro® manufactures its own water ionizers, offers a lifetime warranty, and ships factory direct. This means you can save money getting a higher quality unit for less and avoid paying commissions. Watch the Deluxe 9.5 vs the Enagic® K8 now.
*SMPS stands for Switched-Mode Power Supply and is extremely efficient allocating power to the machine. A lower wattage is able to produce the same effect as an older technology (Transformer) higher wattage machine while reducing your energy cost.
This chart compares the Enagic® Leveluk Kangen™ K8 and Kangen™ Leveluk SD501 to the ionHealth™ and Aqua Ionizer Deluxe 9.5, respectively.

Certification & Testing
Aqua Ionizer Pro® is the only water ionizer sold in any big box retailer, put through the safety and quality checks far above what is minimally required. Our certifications include ETL, RoHS, and ISO 9001, and FDA approval for water contact, making sure you're getting an exceptional quality product.
Water Quality
Through a process called electrolysis, Electricity and Titanium coated plates covered in platinum create the health benefits of our Ionized Alkaline Water. Most of our units have plate counts that exceed all Kangen™ water machines also featuring more power. This means you can start enjoying all of those health benefits for a lot less money. Curious about the results? Ionized water is 100% testable and we encourage you to test it.

All Natural & Chemical Free
Our goal with water ionizers is to have clean and healthy water, so adding chemicals doesn't seem right to us. Our water ionizers are all natural and use ZERO additives to alter the state of the water, additionally, we use top-quality FDA Approved plastics. Kangen Water™ ionizers use a common ingredient found in bleach, Sodium hypo-chloride which is unhealthy and can be damaging.

Installation
There are many different options on where to place your Water Ionizer, and doing so can be confusing. We offer under sink, counter top, and plumbing free installation options.
Warranty
Aqua Ionizer Pro® Water Ionizers are covered by a lifetime warranty, this means you are guaranteed to have a working water ionizer for life. Change your mind? No problem, just send it back under our 30-day money back guarantee for a full refund.
Cleaning
Every 40L our Water Ionizers do a 30 second automatic cleaning cycle so you have no down time and no costly, tedious manual cleanings. Other brands require manual cleaning methods many times a year which can cost upwards of $200 a cleaning.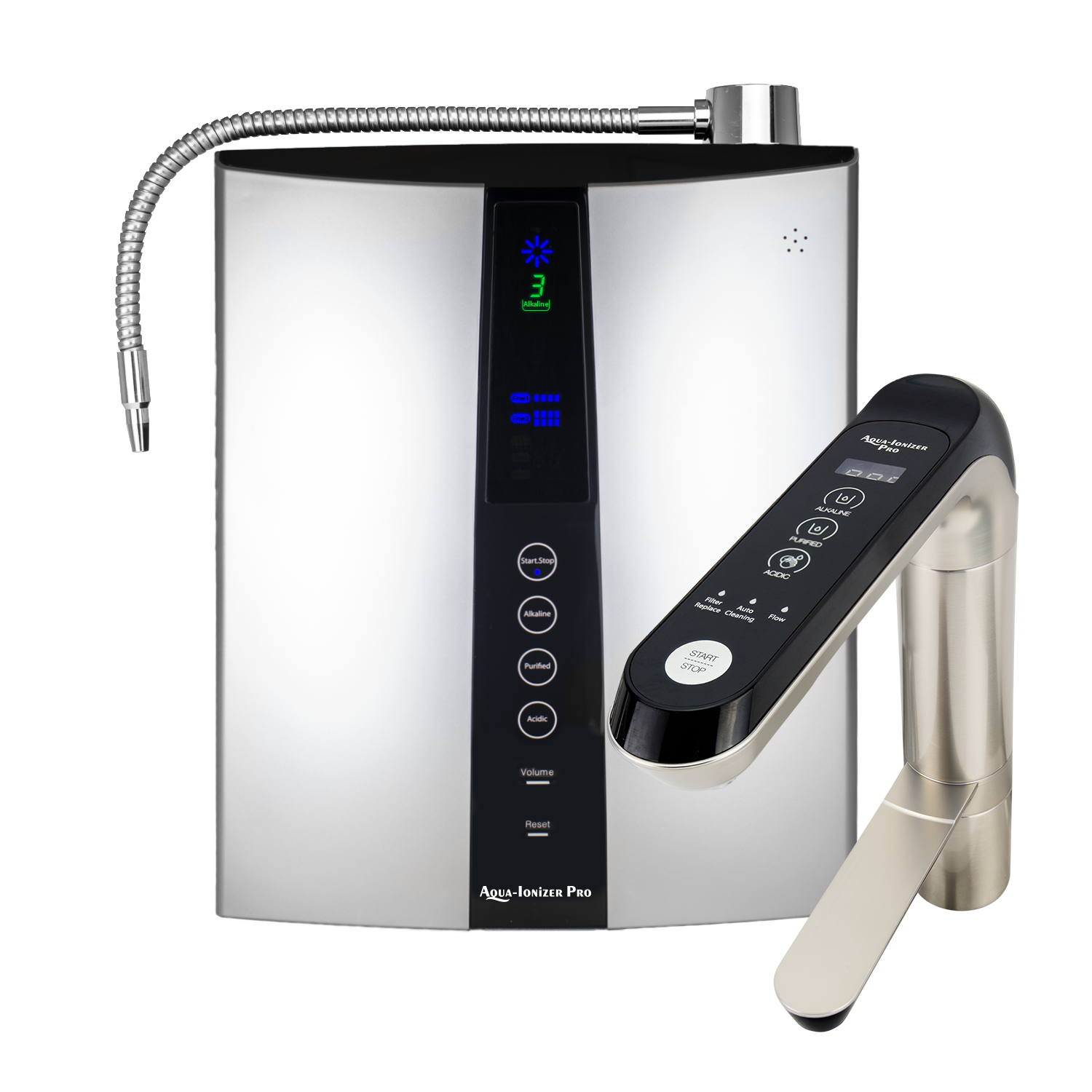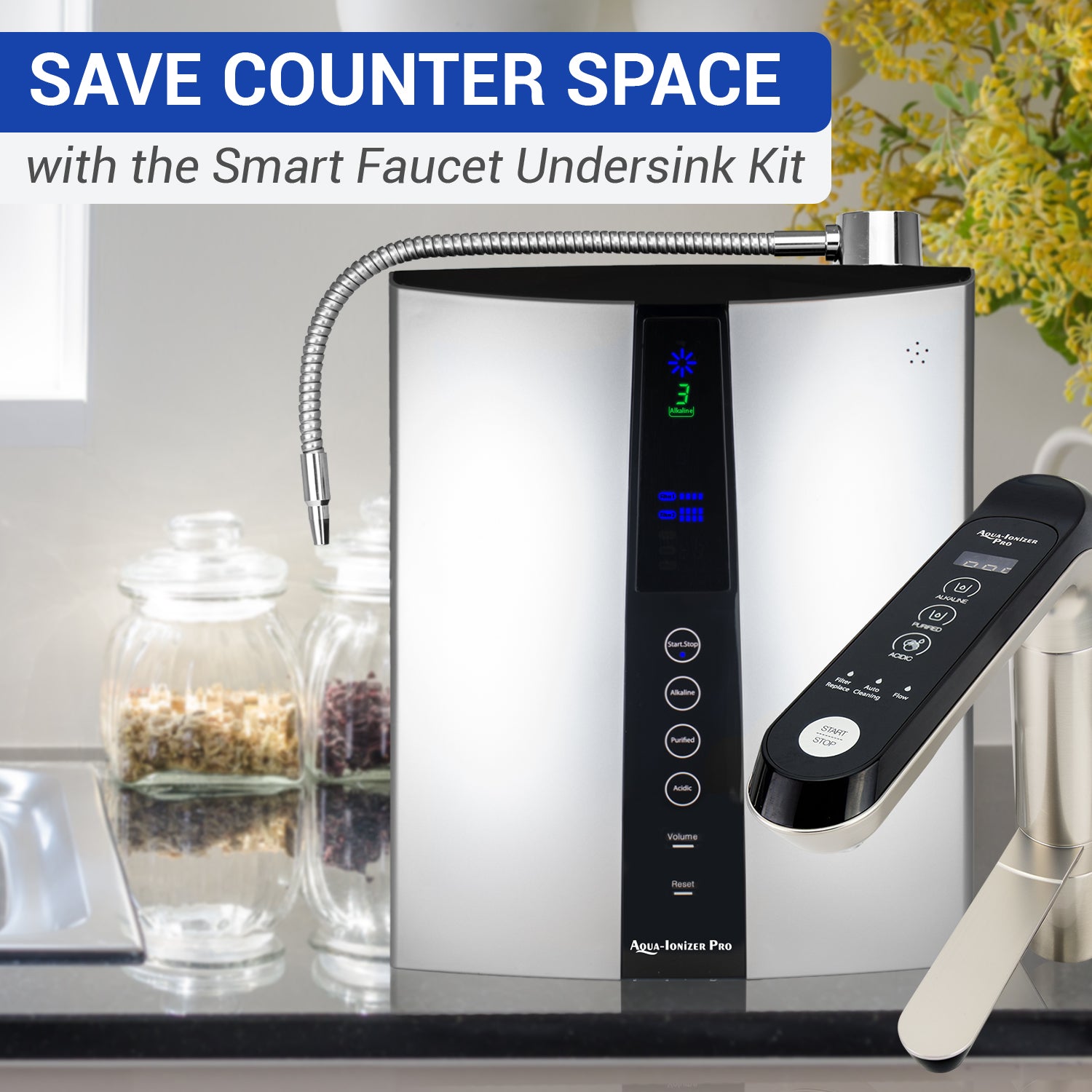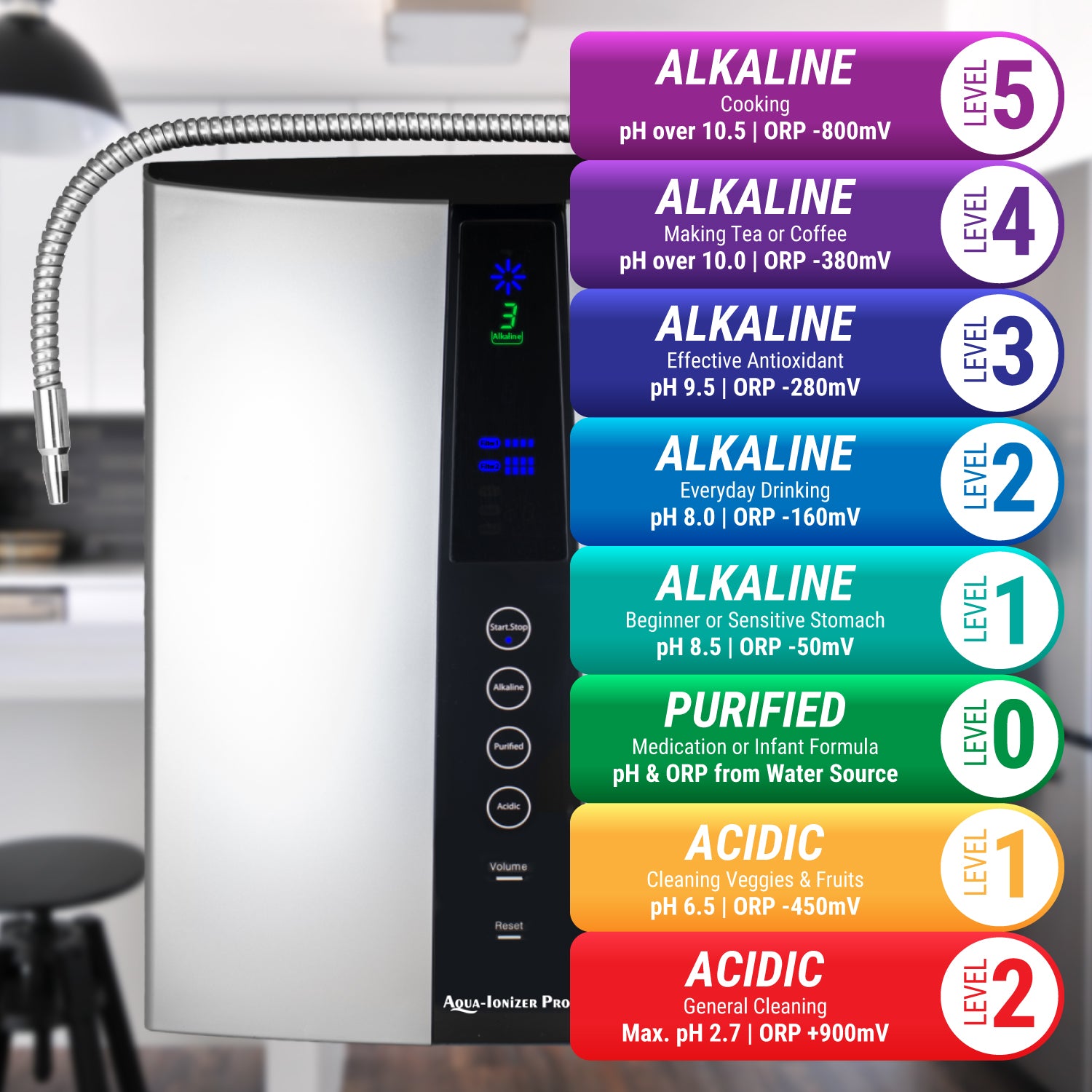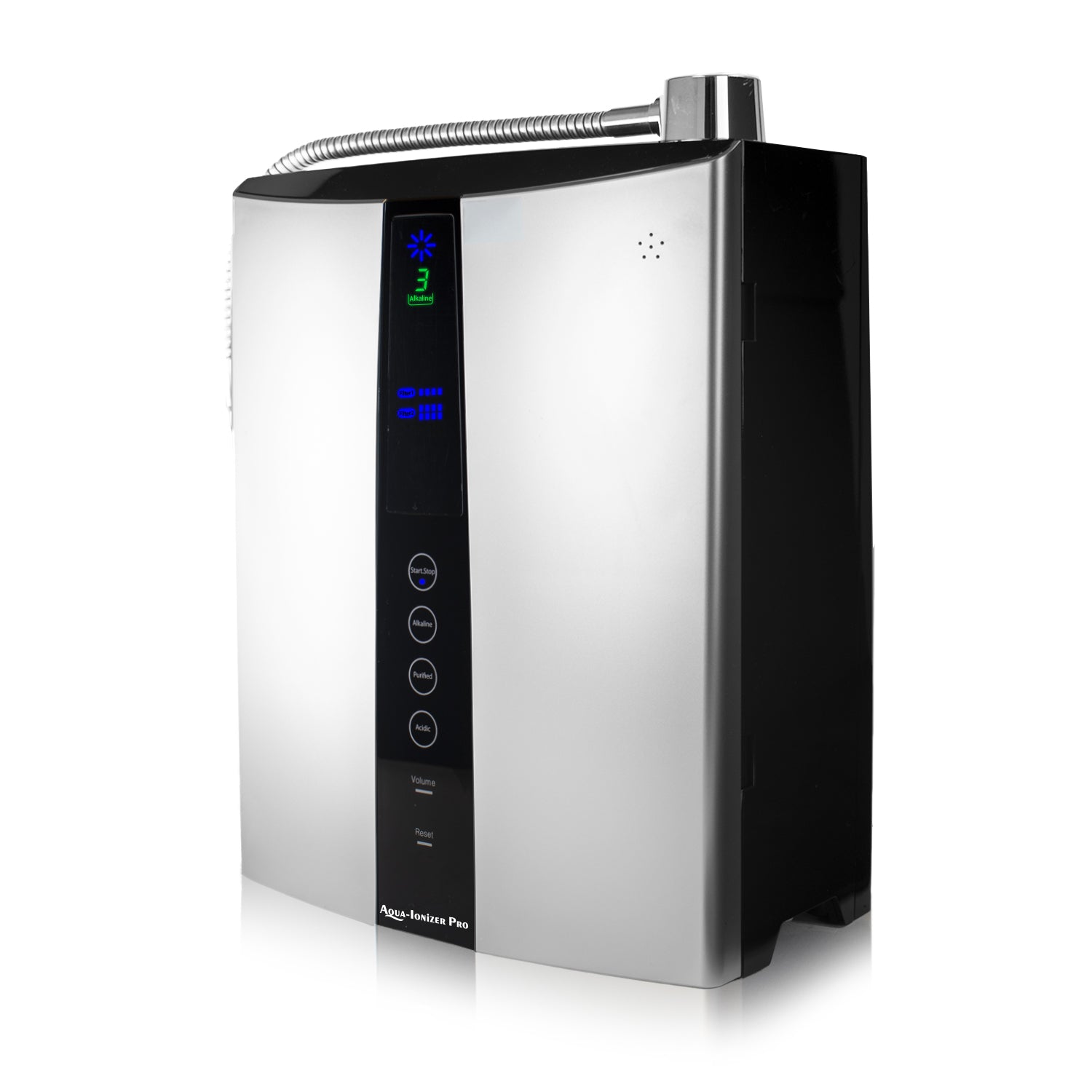 -900 ORP & 9 Plates

pH Range of 2.7 up to 11.5

280 Watts SMPS + 1.6ppm H2

Removes 99.9% of Contaminates
Compatible with Smart Faucet

Any kitchen, any area, any water supply

Automatic Cleaning

Lifetime Warranty
Vivid LCD touch display lets you know what setting is selected, or when it's time to change your filter. Manage pH level, volume adjustment, and more.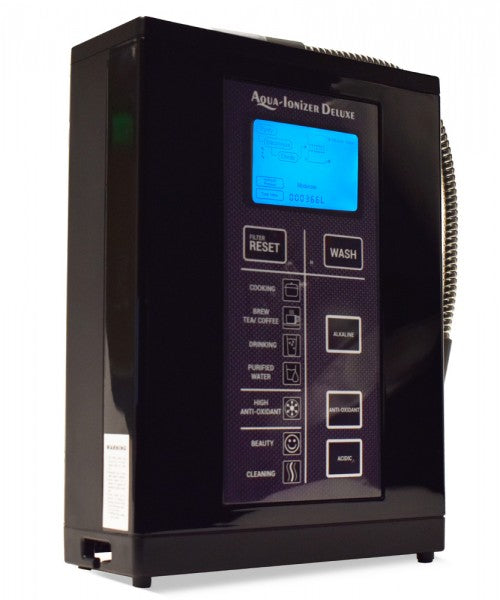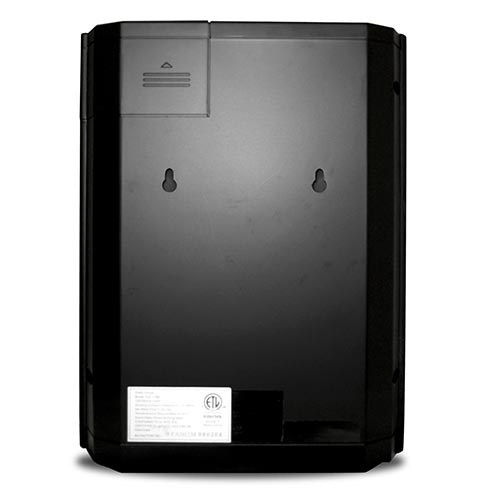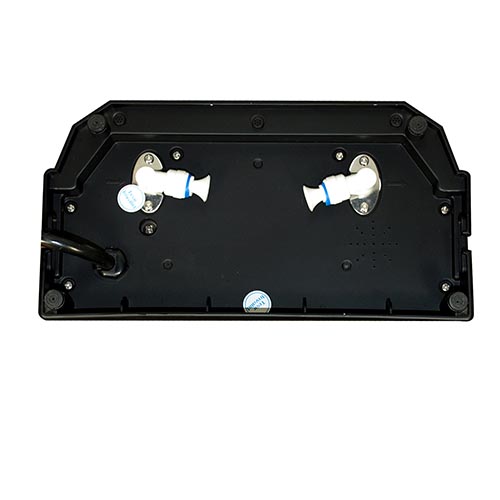 -900 ORP & 9 Plates

pH Range of 3.0 up to 11.5

400 Watts + 1.6ppm H2

Antioxidant Boost Technology
Optional Under Sink installation

Lifetime Cleaning ($150 Value)

Lifetime Warranty

Includes 3 Filters & 2 ORP Water Bottles
The Aqua Ionizer Deluxe 9.5 has been redesigned for 2019 and improved to focus on producing higher hydrogen at a drinking pH level. With over 12 different pH levels the Antioxidant Deluxe Machine uses proprietary antioxidant boost technology to dramatically increase the amount of antioxidants, specifically molecular hydrogen reaching over 1.5ppm*, in your water.

Questions? CALL NOW: 888-601-5886
Connect with us.
Join our growing communities! Learn more about our amazing Alkaline Water Ionizers and all the newest technology we're developing for you!